In the grim dark past that was Thatchers Britain, the default setting of a game called Warhammer was a place called Lustria. The mutant brainchild of then GW game design supremo Richard Halliwell, Lustria promised us a land of adventure, lush rich visuals, an exotic mesoamerican wilderness populated by the remnants of lost civilisations and strange, alien peoples.
Sure, the quasi-medieval Empire well established today was there, but really, alien frogmen, zigguraut pyramids, dwarven treasure-hunters and feathered serpent magicians were where it was at - but none of these were as central to the conception of Lustria as Amazonia: The Empire of the Amazons. And none so central to the Amazons than the Goddess Rigg.
Riggs Shrine | 2nd Citadel Journal
It is quite commonly suggested in Warhammer fandom, that Richard Halliwell named his Amazon goddess "Rigg" after the screen actress Diana Rigg, possibly most famous for her role as Ms. Peel, the original leather cat-suited Avenger, long before Scarlett Johanson stole fanboys hearts doing the same thing. But, back to the plot, why Halliwell should choose this particular actress seemed somewhat of a
non sequitur
the 60's British modernism of the Avengers at odds with Lustrias blend of archaic exoticism and sci-fantasy weirdness.
And then I unearthed this:
The Goddess Rigg | Diana Rigg | Klytemnestra | via
The Serpent Son
, BBCs 1979 adaption of
Aeschylus' Oresteia
combined both Minoan and Science-fiction influences (
erudite and informative article here
). Notable credits include set and costume design by Barbara Kidd, probably better known for her work on
Doctor Who
in the 1970s (and new Who as well). Puts me in mind of a more dusty and autumnal version of
Jack Kirby's costumes for Julius Ceasar
.
This was no dry, worthy adaptation of Greek myth, but rather an avant garde, post-Star Wars affair, no doubt designed to get the spotty oiks who were busy playing D&D to read some "proppa kultcha". Well done Auntie Beeb. Unfortunately there is no Youtube video or DVD release, so exactly how entertaining it is will have to be left to our imaginations.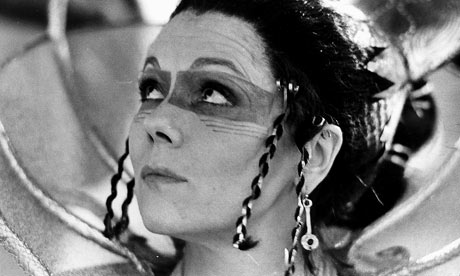 Diana Rigg | Klytemnestra
Diana Rigg | Klytemnestra | Make a mighty fine Witch Elf / Drow Priestess or Priestess of Mongo to boot.
While it can't be said that the costumes (both John Blanche and Tony Ackland drew the Amazons for the
2nd Citadel Journal
, some 6 years after
The Serpent Son
broadcast) exactly follow the designs worn by Diana Rigg, some of the design ethos does seem to have translated. At its most basic it is the marriage of archaic and futuristic which is so beloved by sci-fantasy pulp writers. With Lustria and
The Serpent Son
there are more specific ques, in the words of erstwhile TV pundit Clive James "Diana Rigg had a wardrobe of Pocahontas numbers for day wear. They came with a complete range of
Inca, Aztec and Zulu accessories
."
Emphasis mine.
The serpent-dress is evidently not classed as day-wear by Clive
The Goddess Rigg
The Goddess Rigg |
from the collection of Bruno Galice | via
Putting aside authorial influence, Rigg perhaps servicable as inspiration for the deity of the Temple of Karra or the attire of the Royal Palace of Genaina, things only hinted at by the original text...
Blood for the Koka Goddess | Diana Rigg
Kalim & the Goddess
The Goddess and the Norscans
This is a particularly intriguing image, the dirty-faced
woodwose
looking like odinic refugees from the Sagas, perhaps mirroring one of the central theme of the Lustrian campaigns - invasion by Norse settlers.
I've updated Riggs stats to be compatible with 2nd/3rd edition (that's the 2E S+T kicker and numerical T), and points value calculated as per the
Oldhammer Points Value calculator
| Attribute | | M | WS | BS | S | T | W | I | A | Ld | Int | Cl | WP | PV |
| --- | --- | --- | --- | --- | --- | --- | --- | --- | --- | --- | --- | --- | --- | --- |
| Rigg | | 8 | 8 | 7 | 5 | 4 | 10 | 10 | 1 | 4 | 10 | 10 | 10 | 156 |
Rigg has one knife and four throwing knives (18" short range only, S4 hits). Evidently with an LD of 4, she's a go-it-alone sort of gal, not given to leading others.
Unfortunately I cannot invoke Gu-Gle to provide a colour image of Helen Mirren as Cassandra, Clive James states "Helen Mirren played her as an amalgam of Régine, Kate Bush and Carmen Miranda. In a
punk hairstyle
the colour of raw carrots." Again emphasis is mine, but I am slightly concerned about Clive James identifying what appears to be an acid perm as "punk". Punk, of course being one of the major design themes of the Amazons, with mohawks abound.
Helen Mirren | "Punk Hairstyle" | Cassandra | Koka-Kalim
I can't possibly have a post on Sci-Fi Greek Myths without another trip into the Broom Cupboard for some mid-80s cartoon nostalgia. No real connection to Lustria at all, but past the fantastic sing-long theme tune and dodgy dubbing, the soundscape effectively evokes the blank erieeness of floating through empty space in a deserted spacecraft, in a kind of ambient progfunk way, while featuring blue skinned, white haired psionic Drow aliens (an influence on
Daft Punk
) and vast, alien architectures based on ancient earth cultures, this episode: an ancient egyptian space-station.
It is the 31st century, Ulysses killed the giant Cyclops when he rescued the children and his son Telemachus. But the ancient Gods of Olympus are angry and threaten a terrible revenge...
Mortals, you defy the Gods? I sentence you to travel among unknown stars. Until you find the Kingdom of Hades, your bodies will stay as lifeless as stone.