Mighty-thewed Barbarian miniatures emerging from the mists of prehistory to raid and pillage under the auspices of Dark Gods.
Warbands of Wrath & Ruin | Campaign Banner
Barbarian Slave Fighters
Priestess
Untill now RBG miniatures have been largely 'northern' in inspiration, weaving Nordic and Arthurian influences into a frostbitten Dark Ages milieu.
With
Warbands of Wrath and Ruin,
RBG steps into a new direction. The primeval dawn of time, before the sinking of Atlantis to a world of ruined empires, a world of gods and magic, of flesh and bronze a world or barbaric heroism.
For me it evokes the imagery and worlds of 1970s pulp fantasy fiction Robert E. Howards
Conan the Barbarian
, Richard Corbens
Den,
John Normans
Gor,
Boris Vallejo, Chris Achilleos, Frank Frazetta, Brom,
Sandro Symeoni
Boris Vallejo
Val Mayerik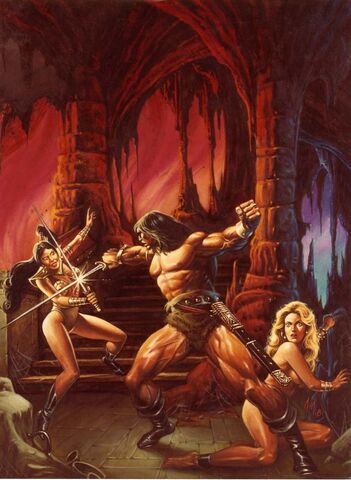 Joe Jusco
Les Edwards
A gaming world and rules set is under development, in the meanwhile the figures have obvious use for skirmish warbands in
Songs of Blades and Heroes
,
Warhammer
(Chaos Thugs) or barbarian themed
Frostgrave
warband
.
Bronze Age / Barbarian adventurers or NPC encounters for pulp, Swords and Sorcery remixes of contemporary
Dungeons & Dragons
or even
Age of Sigmar,
and excellent character or encounter pieces for the various Conan RPGs (from
TSR
to
Mophidius
) and the ever burgeoning range of classic swords and sorcery inpired games,
Astonishing swordsmen & Sorcerers of Hyperborea
,
Crypts & Things
,
Barbarians of Lemuria
or
Adventurer, Conqueror, King
Warbands of Wrath & Ruin on Kickstarter:
http://kck.st/2NPNzZs
(updated and relaunched campaign)